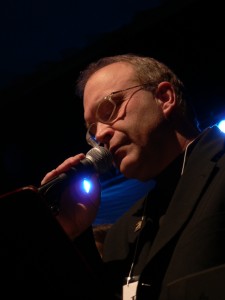 Bruce grew up in Ottawa, Ontario  and started playing Trombone in high school.  Most of his musical training was classical but in his last year at school he was part of a horn section in a rock band  called "Tree". In high school, besides music, he was active in many sports but entered University of Toronto to study biology on an academic scholarship.  Upon completion of a B.Sc. degree in Zoology, Bruce headed off to the University of Kansas in Lawrence to complete a Ph.D. in Systematics and Ecology, where his focus was birds.
After working for the Ontario government for a while,  Bruce accepted a position as Curator of Ornithology at the Provincial Museum of Alberta. He spent  26 years at the Museum, the last ten of which he served as Executive Director.
Today retired from the Royal Alberta Museum. Bruce plays trombone and sings in SixFeetUp and takes the lead in developing the story lines that accompany the music in our shows.